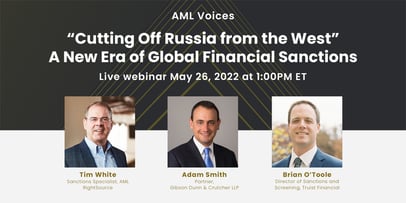 Make sure you don't miss our next AML Voices webinar, Cutting Off Russia from the West: A New Era of Global Financial Sanctions on May 26, 2022 at 1 pm.
OFAC's Russian Sanction regime is very broad and complex. This session features two sanctions experts, both former Senior Level Officers at OFAC. They will provide insights on the significance and impact of the numerous sanctions levied in response to Russia's invasion of Ukraine. We will discuss:
The state of the Russian economy

The private sector's voluntary withdrawal from Russian

Seizing of oligarch assets

Crypto as a sanction's evasion tactic

Sectoral Sanctions

CAATSA

Nord Stream II

SWIFT

CAPTA
These regulations, concepts and issues can present daily challenges for any size sanction compliance program.