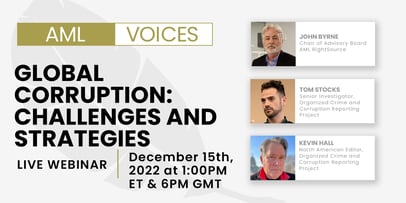 Make sure you don't miss our next AML Voices webinar,
Global Corruption: Challenges and Strategies
on December 15, 2022 at 1:00 pm ET & 6:00 pm GMT
This program focuses on the challenges raised by global corruption and strategies to identify and stop this activity. Our expert panel is several reporters from the Organized Crime and Corruption Reporting Project (OCCRP) that was created to be "a global network of investigative journalists and publishing their stories, OCCRP exposes crime and corruption so the public can hold power to account."
In addition to their work on numerous cases, the panel will discuss OCCRP's new "Russian Asset Tracker," and several investigations that are uncovering corruption, the centrepiece of how illicit funds get moved and disguised. They will also discuss the Global Anti-Corruption Consortium (GACC), launched in 2016, to accelerate the global fight against corruption by combining hard-hitting investigative journalism with skillful civil society advocacy.
Our two experts are Kevin Hall joined OCCRP in 2021 as North America editor, overseeing investigations in the U.S., Mexico, and Canada, and Tom Stocks, who joined OCCRP in 2020 as a senior investigator and investigates money laundering networks and international corruption, and has contributed to major collaborative investigations including Suisse Secrets, the Pandora Papers and the Russian Asset Tracker.